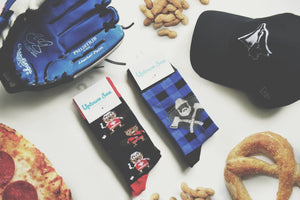 Fun Socks and Other Father's Day Gift Ideas
Our unique suggestions for Canadian-esque Father's Day Gifts along with our top choices of sock styles for Dad.
It's that time of year again, when we honour the man who has been perfecting his "dad bod" all year, the man who won't let anyone else touch "his" barbeque while grilling the meanest steak and finally the man who has mastered tent pitching and fire building on those oh-so-functional family camping trips.  Of course, at Uptown Sox we think our fun and cool socks would look great on dad, but let's share a few other gift ideas that we think your dad would love (or at least provide a jovial grunt upon receiving them "Hmpf")!
Hot Sauce
What Dad doesn't appreciate hot sauce? For dad, hot sauce and BBQ-ing go together like Milli and Vanilli—girl you know it's true.  That being said, let's talk sauce!  Here are a couple of spicy gift ideas for dad that are sure to turn up the heat!
Sauces Piquantes carries a variety of hot sauces that you can purchase online or in gift sets.  This company also ships their products free to residents of Quebec and Ontario.
African Heat is another awesome hot sauce that was created and established in Ottawa by Little Village Foods.  The company was started by fellow dad, Felix and his daughters Rochelle and Roxanne.  You can find their tasty and mouthwatering sauce online or at The Piggy Market in Westboro, Ottawa.
Beard Grooming Products
Even dad needs a little TLC here and there.  Help him show that wild facial hair (which is possibly housing a small family of chickadees) some love.  Here are a few of our top beard grooming products we think dad would approve of.
How bad-ass is this Beard Oil & Beard Comb Gift Set from Captain Fawcett Ltd.  It will make dad feel like the stud he once was (and still is – of course!) when he persuaded mom with his gyrating dance moves.  You can find this product online or in Stroked Ego, Ottawa. 
May we also suggest this Beard Lube from Captain Fawcett Ltd.  It will make shaving that much more easy and pain-free for dad.  It's filled with good stuff like nourishing fatty acids and phospholipids, which will give dad's skin a bright glow (like the one that happens when his team wins in the last inning). You can find this product online or in Stroked Ego, Ottawa. 
For the adventurous dad who knows how way-find like boss with a mere lift of his index finger to the Western wind, we have a gift for him! Why not buy him an Breakaway Experience package.  This Ottawa based company sells everything cool from archery lessons to wildlife tours in Banff.  Check them out!
Lastly we have to suggest our cool socks for men, when it comes to a gift for dad this year.  Our socks love to accompany dad when he is cheering on his favourite team from his hot spot (that awkward groove in the family couch – you know the one we are talking about) or attending that oh-so-serious 9 am corporate meeting.  Whatever dad's fancy is, we have a sock for him!  Here are our top-rated dad socks that we would like to suggest for this upcoming Father's Day:
Tee'd Off Socks - For that dad you don't see all summer because "The Green" is his new best friend.
Chuck the Canuck Socks - For that  extremely patriotic dad who lives and breathes everything Canadian.  
Sir Bacon Socks - For the outdoorsy dad - This sock features Sir Bacon, who dad can relate to, since he loves fishing, lounging with a cold one and simply enjoying life!
With all of the suggestions we have given you, surely you will find a gift for the man who helped you buy that lemon-of-a-first-car and who gave you the 101 on how to wear sweat pants like a boss.  With that we end, thank you for reading and Happy Father's Day to all the awesome dad's out there!
Creative Director
---