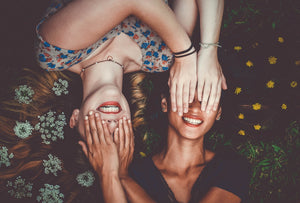 Our New Women's Socks and What to Expect!
With the beginning of August here, we wanted to start off the month by sharing something fresh!  We are launching our women's line in a month and would love to give you a sneak peek on what's to come!  We are proud to say that we will soon have a sock for every babe!
This is one of our favourite designs from our upcoming women's line, meet the "Kiss from a Rose" socks.
This is exciting for us because we have wanted to introduce florals into our collection for awhile.  This sock is subtle, sweet and elegant.  Although we love everything fun at Uptown Sox, we always like to through a time-honored and classic design into the mix.  These socks were inspired by rich and earthy floral tones found in pomegranates, plums and black peonies.  This sock is meant to be worn with your easy pair of fall jeans or with a sophisticated work ensemble.  Either way, we hope you'll be sipping something "pumpkin spice" while you wear them :)
Photos by Annie Spratt on Unsplash
When we announced the launch of our women's collection this past spring, we asked our followers what designs they wanted to see in our female line and pineapples were the tangy answer.  Our next preview is of the light and airy "Pina Colada" socks.  With a pinch of pineapple and a side of flamingo, these socks make for the perfect cocktail and are a spin-off of our men's "Tropical Punch" socks.   This pair of socks embodies tone on tone Mediterranean blues as well as small bursts of zest yellow and peachy pink.
This fun set is for the girl that just can't let go of summer and who translates surfing into snowboarding.  As we launch these socks in the fall, they will keep you smiling as they remind you of those warm summer nights (*insert Grease soundtrack here).
Photos by Marvin Meyer, Conner Murphy and Gislane Dijkstra on Unsplash
Stay tuned as these designs and more will be available in September 2018.  Expect everything cute, refined and of course whimsical.  Thanks for reading!
     Creative Director
---
4 comments